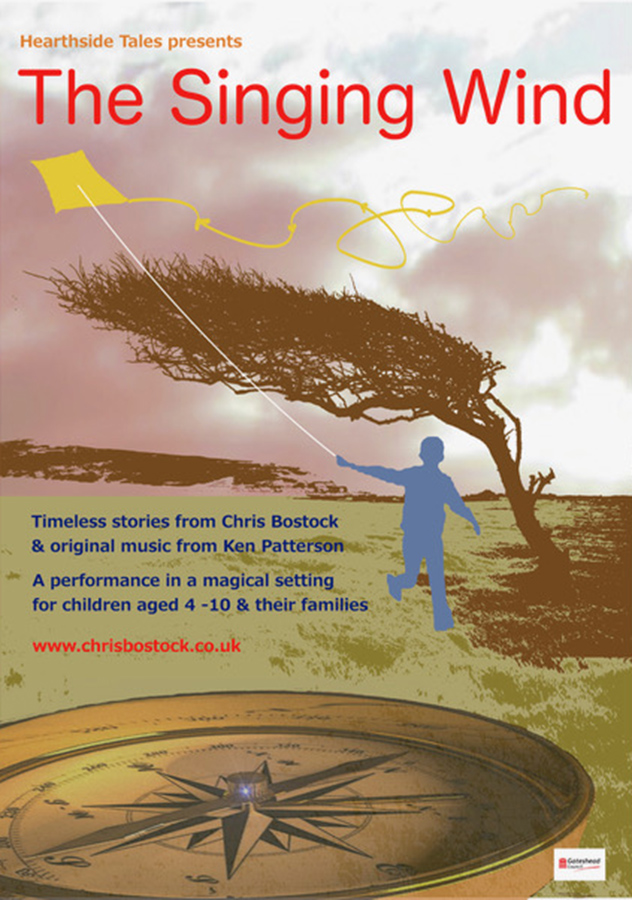 A new show celebrating story and music
Storyteller Chris Bostock + Musician Ken Patterson
Told in story, sound and song, The Singing Wind tells of a boy who hears on the wind how he can save his people. He is sent to the four corners of the earth where, guided by the wind, he learns of the power, value  and wonder of fire, earth, water, and wind. He returns home to a great welcome and is feted for his wisdom and knowledge.
Performed in the round, our audience will be as much a part of the performance as our 3 musicians and storyteller. The Singing Wind incorporates folk tales and myths from Greece, Norway, Africa and the North American Plains. There'll be links to Language, Writing, Science and Music.
What strength does it take to follow your dreams? Will you use what you have learned, when you have faced your the greatest fears? What do you hear in the wind, and what can we learn from the wind?
Our original music, inspired by musical forms from around the world -   wherever the wind blows - is performed by local musicians from different cultural backgrounds.  Our designs are by award winning designer Alison Ashton
Audience: The Singing Wind is created for family audiences with children from 4 -10
Availability: From 21st November 2017 - 31st January 2018, touring later in 2018
Performance time: The performance will last 60 minutes
Space Required: We require an empty Hall